User guide

Available now from these retailers:
Control Voltage - US (Sold out)
Modular8 - US (Sold out)
Juno - UK
Signal Sounds - UK
Gizmo - Japan


Preorders ($295) were closed July 2019. All units ordered were shipped October - January.

To let us know you'd be interested in buying this device if we do another run in the future, sign up for our mailing list.
~~~~~~~~~~~~~~~~~~~~~~~~~~~

The Delaydelus 2 is a modular friendly follow up to our original sampler/delay instrument.
By Daedelus and Dr. Bleep with graphic design by Trek Matthews
Stereo 16bit 44kHz audio i/o

Banana plug patch bay allows you to play up to 4 samples at once triggered from the two arcade buttons or trigger inputs.

Control the speed and direction of the samples with the knobs as well as the CV FM (-5V to 10V) input

CV envelope follower out (0-8V) based on audio playback level

Trigger outs (10V) from each sampler button.

One shot mode, Gate (mpc style) mode, + Send external audio through the built in 1 second stereo delay.

Record into one of 10 banks. Each can hold up to 17 seconds of high quality audio.

Delay sync in and out with the ability to divide and multiply incoming sync rate.

Micro SD card slot allows loading WAV files the 10 banks.

Built-in new samples from Daedelus

Worldwide 12 DC power adapter included

At its core the Delaydelus 2 is performative sampler that can manipulate the pitch of 4 stereo samples at once.
Coupled with extensive CV in and out, a syncable delay, and audio input you have a machine that can make anything from boom bap beats to outer dimensional noise loops, with or without additional gear.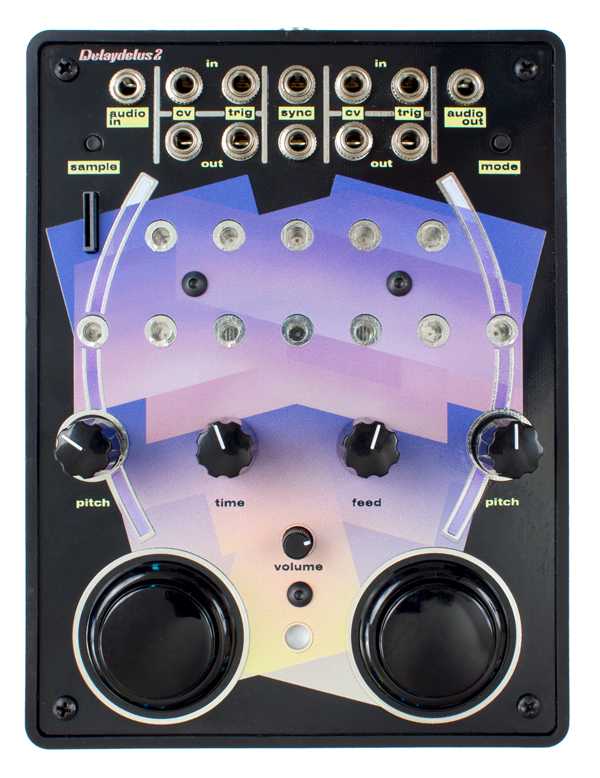 All images and videos of a pre production units, warts and all. We are currently working to perfect the in the printing process. The final unit will look very similar to what's presented here


Preorder
Only 100 units will be produced for individual orders.
Once we hit this number orders will be closed. Units will ship in September and will include a limited edition pin designed by Trek Matthews

$10 USPS priority shipping in the US. $19-$26 int'l ground shipping (2-4 weeks, no tracking or insurance) based on location. Contact us for additional options.
Device includes power supply and four banana patch cables Dimensions are 6.25" x 4.75" x 2" (160 x 120 x 50mm)

Production timeline
June - Complete art printing tests and continue to test code. Begin ordering parts
Early July - Order assembled PCBs. Start pre production (process enclosures, shoulder internal wires etc.
Late August - Receive PCBs and begin full production.
Early September - Begin shipping units.

See a full description of features and controls here.

In depth user guide will be posted when units begin to ship.
Code and pcb files will be posted to the Bleep Labs github when they are finalized.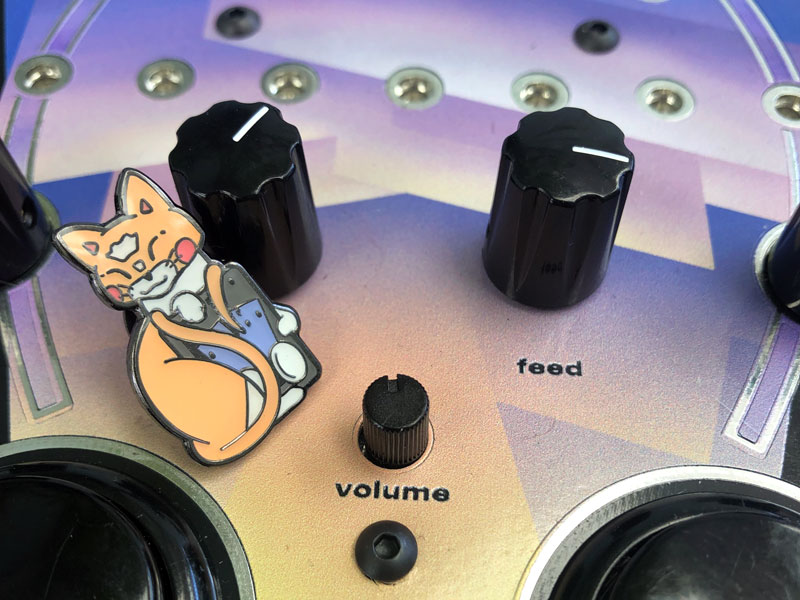 All orders include a pin designed by Trek Matthews


Is it a module? Can you mount it in a Eurorack case?
The Delaydelus 2 is a stand alone unit that can send and receive standard CV and triggers from a eurorack modular or anything else but. It's made to live outside a rack so you can perform with it more easily, or use it without modular gear entirely. It's also a bit taller than a eurorack module.

It's not necessarily semi-modualr but self patching is encouraged. The device takes -5 to 9V CV inputs, triggers over 3V, sends 10V triggers, and sends 0-8V CV out Audio in and outs are line level AC coupled.

Is it an effect?
Yes you can use it as a stereo delay effect with one of the 2 through modes. Delay times of the left and right channels are independently adjustable.

What do all those jacks and knobs do?!?
See a full description of features and controls here.
An in depth user guide will be posted when units begin to ship.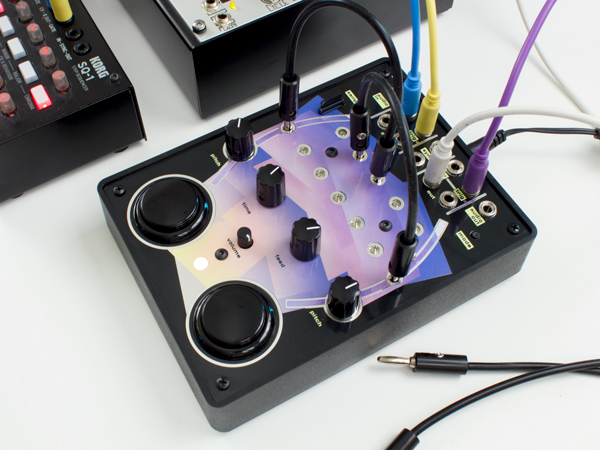 Original concept by Daedelus in Los Angeles and Dr. Bleep in Austin
Hardware and code by Dr. Bleep using the Teensy system by PJRC Artwork by Trek Matthews in Chicago
PCB assembly and artwork printing by WMD in Boulder.
Final assembly and QA by Malika Boudisa and Dr. Bleep in Austin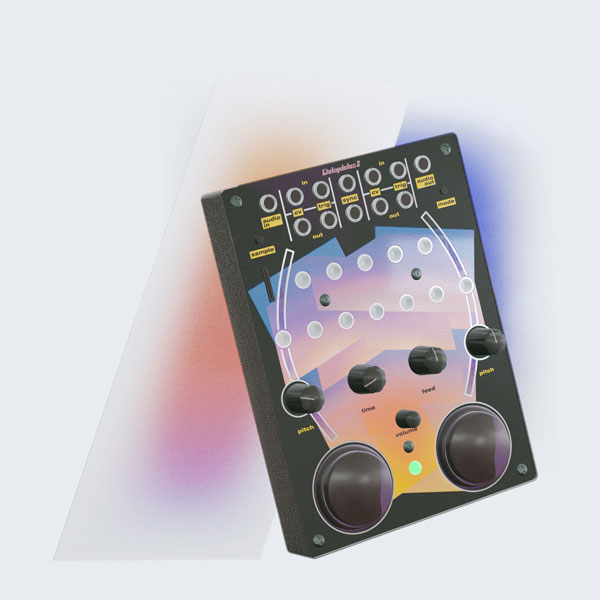 Please email us with any and all questions!